World Congress Update;
Join TS & TOS In Singapore August 2018
The eleventh World Congress of the Theosophical Society will be held in Singapore at the Ramada Hotel Congress Hall and adjacent rooms from 04-09 August 2018 (recommended check in from 03 Aug as the opening ceremony commences AM on 04 August). The TS Congress will be followed immediately by the International Conference of TOS 09-11 Aug at the same venue.
There is a choice of two hotels, Ramada 4* or Days Hotel 3* - The park pictured below separates these two adjacent hotels.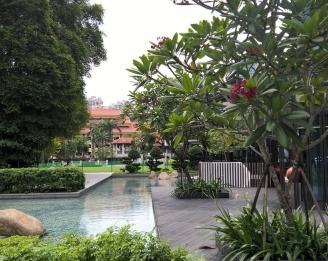 The cost for 8 nights accommodation, 03-11Aug including breakfast, lunch, dinner & congress registration is:
Ramada Hotel 4* accommodation
 Twin share SGD$1718 per person
 Single SGD$2378
Days Hotel 3* accommodation
 Twin share SGD$1530 per person
 Single SGD2095
A deposit of SGD$100 will secure registration for both events, there are only 300 spaces for the Congress, please book early to avoid disappointment.