Brisbane Theosophical Order of Service
President
Vice-president:
Secretary:
Treasurer:
Brian Harding
Geoff Harrod 
Susannah Mason
Dianne Manning


drbch1125@gmail.coml
Meets at Brisbane Theosophical Society Lodge:
355 Wickham Terrace, Brisbane QLD 4000
TOS members work as volunteers in a number of areas, choosing ones of particular interest to them, such as community service, education, healing, animal welfare and environment. 
In addition, the group chooses several projects to support each year with donations and voluntary work. For information, contact one of the committee.
Brisbane TOS Annual report 2018
---
Upcoming Events in Brisbane: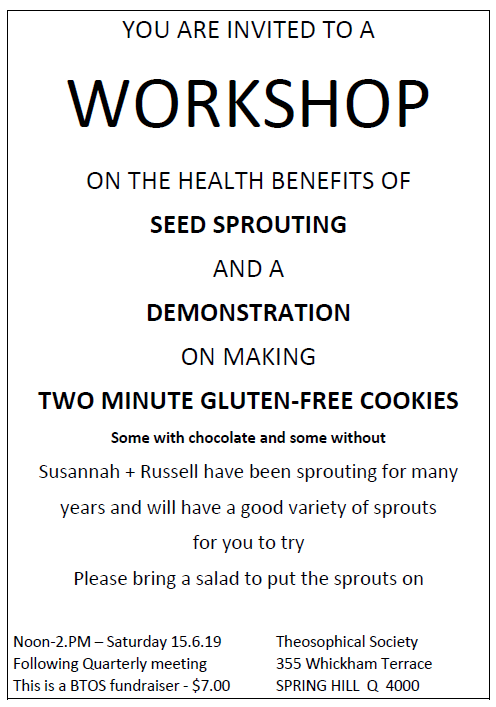 ---
TOS News pages from Brisbane TS 'Contact' newsletter -
---
Past events:
Chinese music and art concert -  8 Feb2017

This was a Theosophical Society event organised by a TS member recently returned from her homeland.  Donations were invited and the proceeds went to a TOS cause - the Adyar Womens Welfare Program.
 

The Mobility Aids Project

We have supported this project for several years. Our donations enable the Assam TOS to purchase hand-operated tricycles and wheel chairs for people who cannot afford them. A modest donation of AU$750, for instance, can purchase three tricycles and three wheel chairs. We have had some wonderful success stories of how this small act of generosity provides many recipients with independence and the opportunity to earn a living.

O Powers of Love!
An invocation by George S. Arundale

O Powers of Love!  We pledge to you our faithfulness, 
knowing that only love can redeem the world.

We invoke your blessing on all who strive to serve you.

We invoke your blessing on all who endure suffering, that they may discover their enfoldment in your love even in 
the midst of their affliction.

We invoke your blessing on all who inflict suffering that they may be moved to return to you and serve you.
  

Updated
2 JUNE 2019